ss Olympic voyage timeline
---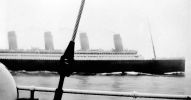 Reliable to the last: 1930-1937
The economic depression of the 1930s drastically affected passenger numbers. The Cunard and White Star lines merged in 1934, and the nearing completion of the new Queen Mary brought about the need to reduce the size of the combined fleet. Within a few years many famous old liners, the Olympic included, were withdrawn from service. Her hull and machinery were basically sound but in 1935 she was sold for scrapping, her final voyages being to Jarrow and Inverkeithing for that purpose.
---
Click on the voyage to view or hide the dates and ports of call.
Clicking on the year number will show or hide all the voyage information for that year.