ss Olympic voyage timeline
---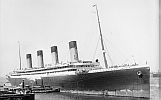 The early years: 1911-1914
The first two years of service were marred by misfortune. A collision with HMS Hawke and a number of propeller blade breakages required costly journeys to Belfast for repair. Crew unrest after the Titanic sinking resulted in another aborted voyage. Returning to service in 1913 after a major overhaul, the Olympic's unlucky streak seemed to have ended and a series of successful voyages ensued. This profitable career was interrupted by the outbreak of war in August 1914.
---
Click on the voyage to view or hide the dates and ports of call.
Clicking on the year number will show or hide all the voyage information for that year.