ss Olympic voyage timeline
---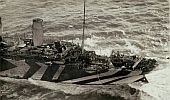 His Majesty's Transport: 1915-1919
Low passenger numbers and other wartime difficulties caused the White Star Line to withdraw the Olympic from service for almost a year. In late 1915 she was taken up by the government as a troop transport, firstly to the Mediterranean in support of the Dardanelles campaign, then ferrying Canadian and American troops to Europe. Despite several close calls with enemy submarines she survived the war with one sunken U-boat to her credit, earning the nickname of "Old Reliable". Late 1918 and 1919 brought more transport duty returning troops to North America.
---
Click on the voyage to view or hide the dates and ports of call.
Clicking on the year number will show or hide all the voyage information for that year.