ss Olympic voyage timeline
---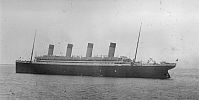 Prosperity and glamour: 1920-1929
A lengthy overhaul at Belfast included conversion from coal to oil fuel, and the Olympic returned to passenger service in 1920 a better ship than ever. Although immigration restrictions to the U.S. would reduce passenger numbers the ship was both popular and commercially successful. Changes in accommodation were made to cater to the new tourist class of passenger. But the advent of newer, more fashionable liners and the stock market crash of 1929 were signs that the good times would not last.
---
Click on the voyage to view or hide the dates and ports of call.
Clicking on the year number will show or hide all the voyage information for that year.